Keycafe fobs allow for our key-owners and visitors to easily track and store various sets of keys in a Keycafe SmartBox. To learn how to setup a fob, visit Setting Up a Key with a Keycafe Fob.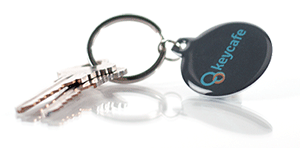 NFC Chip: Keycafe fobs are equipped with an internal NFC (near-field communication) chip, which allows them to be scanned at any Keycafe SmartBox when dropping off keys. This ensures that Keycafe can provide a complete history of the key's journey.
No GPS Tracking
Please note that Keycafe fobs do not have GPS. We cannot track fobs when they are not in the Keycafe SmartBoxes.
Serial Number: Keycafe fobs also have a stamped serial number that ensures every fob is unique. The serial number is a combination of numbers and letters printed on the individual fob. This number is useful when communicating with Keycafe support regarding a specific key in your account.
Checking the Serial Number in the App
To check a key's serial number from the Keycafe apps as a key-owner, select Keys from the menu. Select the key you want to check. Select About Key and look for FOB #.
For more help on how to edit your key's information, visit Managing Keys.
Keep the Keycafe Fob on at All Times
Ensure that the fob is always attached to your keys. When you tag your keys with a unique Keycafe fob, the fob is synced to the key in your account to ensure accurate tracking.
Lost Fob
If you have lost the fob on your keys, you can unlink the lost fob and attach a new fob to your keys while retaining your existing accesses and key history.
1. Log into your Keycafe account.
2. Select Keys.
3. Select the name of the key that no longer has a fob attached.
4. Select About Key.
5. Select Edit.
6. Select the Fob Serial text area.
7. Select Unlink.
8. Visit any Keycafe location and follow the steps for Setting up a key with a Keycafe fob.