In this article:
Viewing Your Keys
Using the Keycafe iOS, Android or web application, it is easy to manage your keys and who has access to them. You will also be able to see the drop-off and pickup history of specific sets of keys, along with being able to modify the details of a set of keys.
Log into your Keycafe account.
Select the Keys icon to see a list of your keys and the keys' statuses. A key's location will be provided if it is checked in.
Select the name of the keys you wish to manage.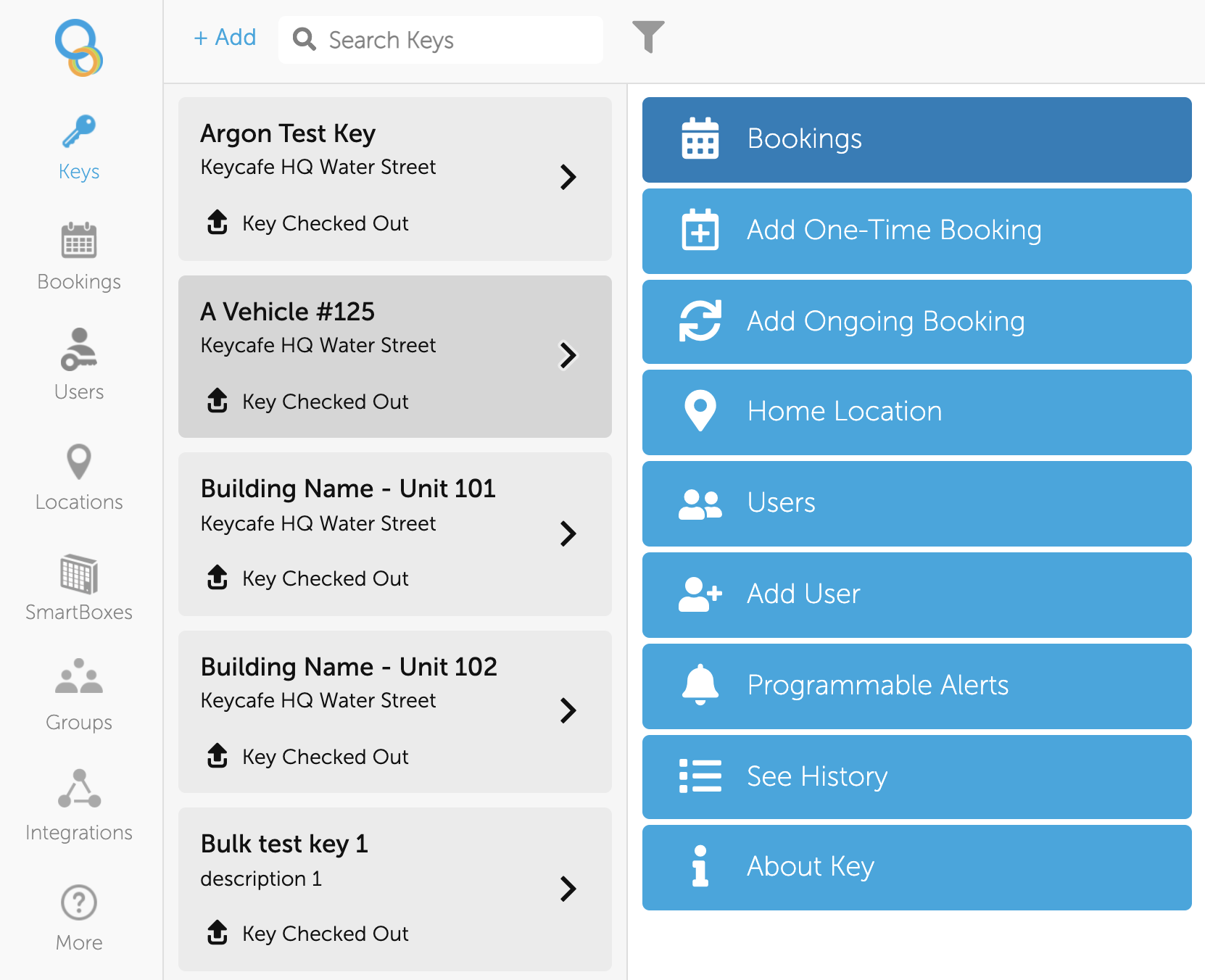 Visitor Accesses
Select Bookings to view which visitors have access to your keys. To track your visitor's key pick up or drop off journey, select the name of your visitor and select Visitor Progress. Additionally, you are able to edit or delete your visitor's access to your keys. Simply select About Booking to resend instructions, edit dates/times, or revoke the access. See Managing a Booking for step-by-step instructions.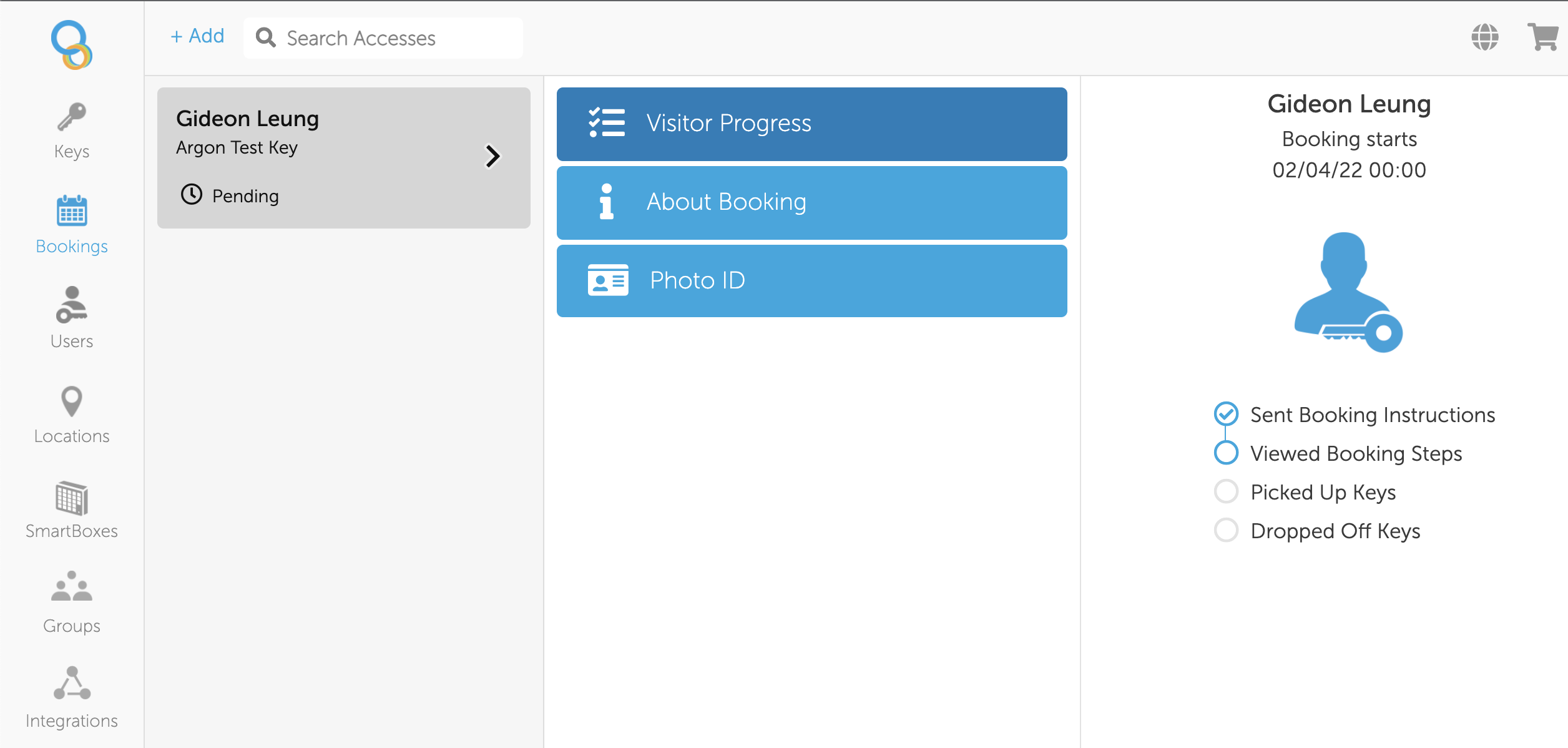 Home Location
The Home Location is the SmartBox location where the keys currently are residing or where they were last picked up. This is the location that will be displayed to visitors as the pickup location for keys they have access to. Select Home Location to see this location and the blue arrow to see the further details. Select Show directions to see walking directions to the Home Location from your current location.
Public Location Holiday Hours
While Keycafe makes every effort to keep each location's available hours up to date, we recommend that you call your location directly to determine if there are any changes to their hours of operation during a holiday period.
Adding One-Time Booking
For information on how to add one-time booking, visit Creating a Booking.
Adding an Ongoing Access
For information on how to add an ongoing access, visit Creating a Booking.
Viewing a Key's History
Select See History to view the history of the key's pickups and drop offs. Events are listed in chronological order with dates, times, and the type of event that occurred.
Editing a Key's Information
To view and edit information for your selected set of keys such as changing the key's name, adding a note for visitors, adding the property address, or modifying the default access start and end times proceed with the following steps:
Select About Key.
Select Edit.
Select Key Name to rename your key. See Creating a Key for some tips on naming your key.
In case you have lost your Keycafe fob, select Fob Serial # to modify the fob associated with the keys.
Replacing a Lost Fob
Please note that the Fob Serial # field can be used to replace a missing or lost fob. You may either update it with a new unlinked fob you have purchased or obtained, or you may clear the fob from the key. Important: once you have cleared the fob, the key will be ready to go through the fob setup process again. See setting Up a Key with a Keycafe Tracking Fob instructions.
Select Default Access Start Time and Default Access End Time to change the default start and end times for this key's access. Once set, every new access you create will have your preset booking and check-out times automatically.
Select Address to enter the address corresponding to this key. This enables you to search by address to find your key in your account. Your visitors are not able to view this information.
Select Note to Visitor to add or edit the welcome note to your visitors. When picking up the keys, your visitors are able to read the note by using the Keycafe app.
Select Save to confirm your changes.
Retiring a Key
Retiring (deleting) a key removes the key from your account and its data will no longer be accessible to you.
Pick up the key from the SmartBox.
Log into your Keycafe account.
Select the Keys icon.
Select the key that you wish to retire.
Select About Key.
Select Edit.
Select Retire Key at the very bottom of the page.