In this article:
Enterprise Users and Private Locations
Key codes do not work in public network SmartBoxes. They are only available for enterprise users and their private SmartBox locations.
What are Key Codes?
Key codes are six-digit codes that can be used to access a key at a SmartBox. They allow a key to be picked up or dropped off without a user access, booking, or key fob. A user with the key code will have unlimited access to that particular key.
Key codes are useful for workflows where quick and simple key exchanges are desired. However, security and trackability are reduced.
Security note
When a key is accessed with a key code, it is logged anonymously as "Key Code User". We recommend leaving this setting off if you'd like to maximize security and trackability.
Turn on Key Codes
Managing Key Codes on Mobile
Note that enabling and disabling the key code setting can only be done on the desktop app.
Log in to Keycafe desktop.
Select Settings.
Select Keys.
Toggle key codes to the on position.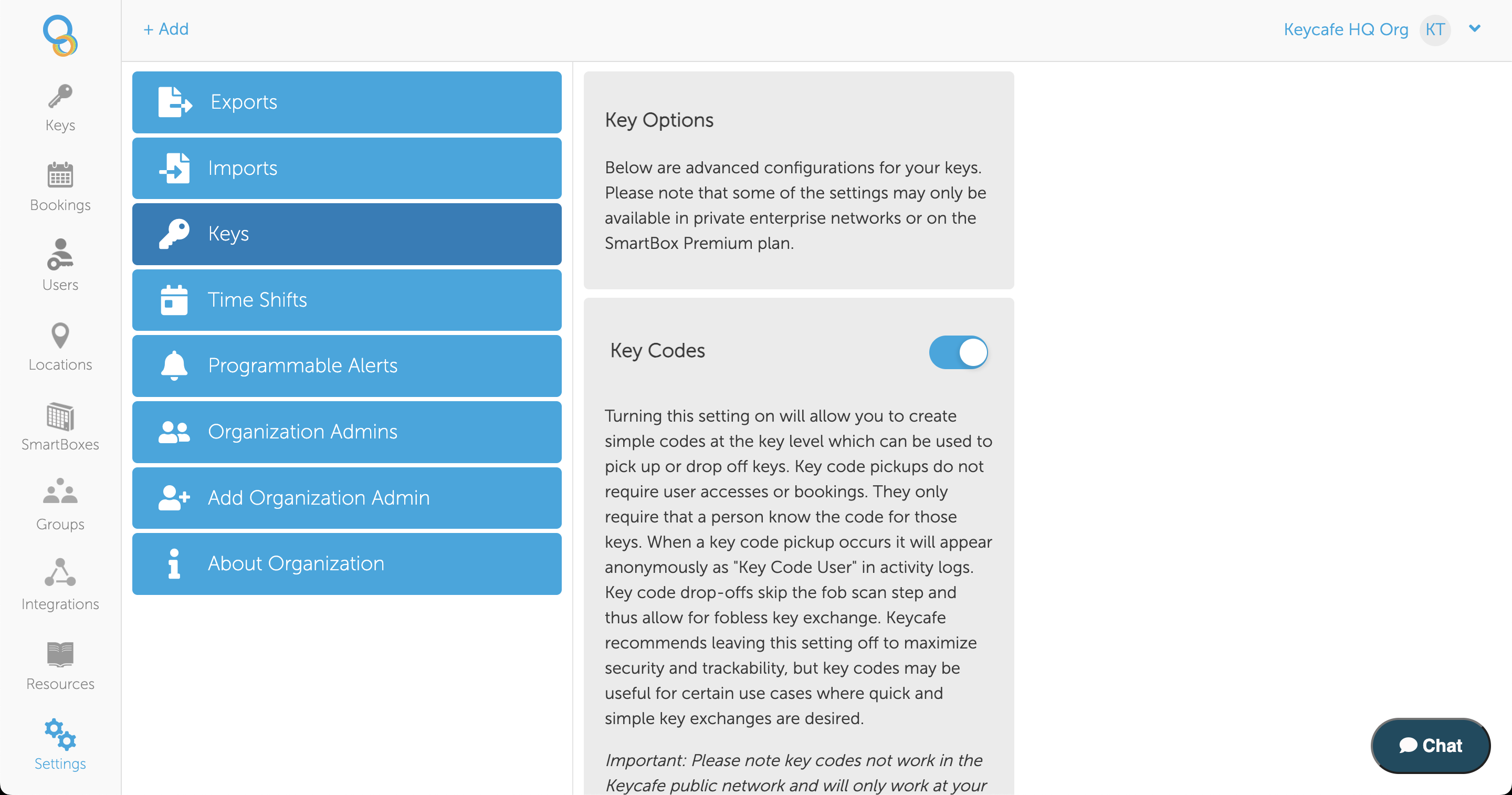 Find the Code for a Key
Log in to Keycafe desktop or mobile.
Select Keys.
Select the key you'd like to find the code for.
Select About Key.

Auto-Generate a New Code
Select the shuffle icon next to the key code to create a new, randomized code.

Create a Custom Code
To manually enter a custom code, select the edit button at the bottom. The code must be 4-16 digits.
Previous Codes are Invalid
Anytime a new code is created - auto-generated or custom - all previous codes become invalid. Only one code per key is possible at any time.
Disable a Key Code
You can disable the key code for any individual key by toggling to the off position beside the shuffle icon.