Welcome to Keycafe!
What is Keycafe?
Keycafe is a key exchange service that allows you to share your keys with visitors, family or service providers. By using a nearby SmartBox location, Keycafe users have an accessible and convenient way to pick up or drop off keys.
A Welcome Solution
Think of Keycafe as your neighbourhood front desk.
The company was born because of the stress that our CEO and Co-founder, Clayton Brown, felt when hosting Airbnb visitors and having no way of getting keys to them. After speaking to the cafe across the street about holding the keys, the idea for Keycafe was put into motion.
There's no longer a need to hide keys under the mat or rely on a neighbour to give property access. Keycafe has taken the stress out of the equation and given an indispensable resource for rental hosts and travellers alike.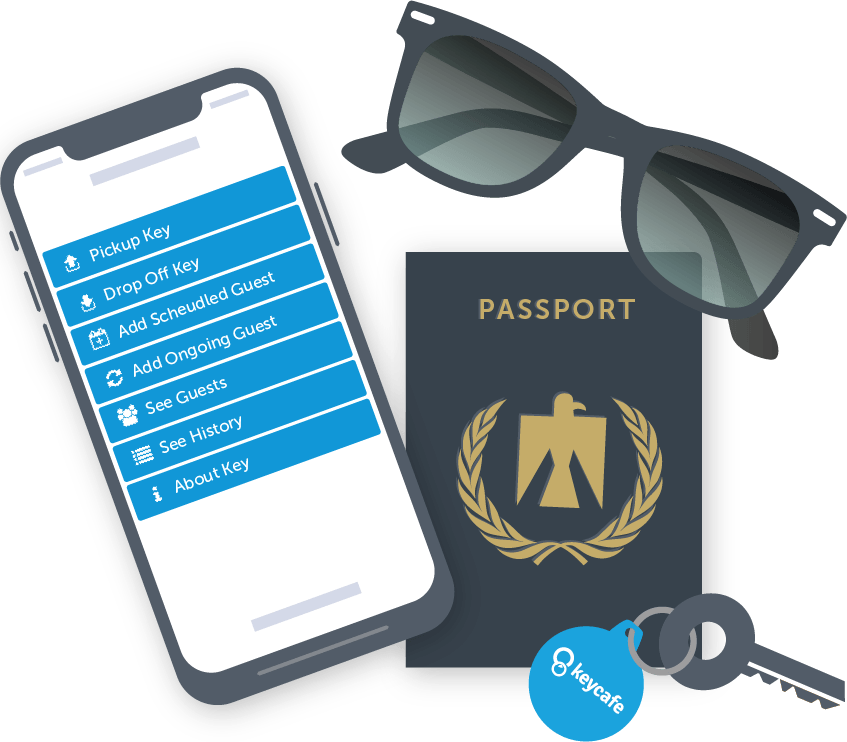 Who Can Pickup and Drop Off Keys?
Any Keycafe user can drop off keys at any Keycafe location during business hours. Only visitors to whom you grant access can pickup your keys during the time period you specify. Visit Creating a Booking for the step-by-step instructions on how to grant an access to your visitor.
Keycafe Apps and Why Ask a Visitor to Use the App
The Keycafe app is available for both iOS and Android smartphones. Simply download Keycafe free of charge to get yourself set up.
We get this question a lot. Why can't we just have our visitor use a code and be done with it. The answer is, they can. Your visitor receives 3 options; they can complete the steps via using a unique URL link, they can use a single booking code, or download the app and connect the access.
1. URL Link: They select a link that they will receive in an email or SMS message. Using the link, they can obtain directions to the SmartBox with your keys inside and they can access your keys by simply pressing the button. That's it - super simple.
2. Access Code: They can use the code they receive in the access email or SMS to go to the SmartBox with your keys inside. However, what if something changes or your visitors forget the code or lose the URL link? That is where the app jumps into action.
3. The Keycafe App: If the customer downloads the app, they now know the following information.
Booking code. Your visitor will never have to save an email or store any codes - it will always be there waiting for them on their device. (As a bonus at locations with our newest technology the visitor can pickup the keys directly from the app!)
Real-time location of the keys. (If a visitor drops off keys at a different location, or if a cleaner forgets to bring the keys back, the visitor can see this in their app)
Access date and time. Often a visitor forgets the time they were authorized to pickup the keys, say you set it for 11am. They show up at 10am and try to get the keys, end up calling you and customer support to find this information out. The app shows them this information right on their phone.
Walking directions. With the app in hand, they will be guided right to the SmartBox where the keys are currently placed in. You don't have to email them detailed instructions - the app takes care of it.
Direct help line. If your visitor does encounter an issue at any time during their journey, they can use the app to directly live chat 24/7 in any language to quickly solve their issue.
Why do we ask your visitor for a phone number and email address? This is the only way to link your access with the app they download. Otherwise we can't know who has access to your keys.
Growing Across the World
Keycafe has active SmartBox locations in 45 cities across 12 countries, and is growing every day. Our fantastic support agents are available 24/7 to assist our visitors whenever they need it, day or night. With a roster of service staff that currently spans nine different languages, we ensure a seamless customer experience when using Keycafe.
No Keycafe Location Near You?
We are rapidly expanding across North America, Europe and Asia. If we do not yet have a location in your city, you can help! Please visit Keycafe Locations and complete the form to make sure Keycafe comes to your city.
Supporting Businesses
Businesses such as property managers and realtors are able to use Keycafe to manage all their keys from a single dashboard. If you have a business and need to manage multiple properties, visit our Enterprise page to learn more about our enterprise program. Please contact enterprise@keycafe.com with your questions. We would be happy to provide you with more details.
Starting Your Free Trial
Before making a decision, try our service free for two weeks. Visit the iOS app store or the Google Play Store to download the free Keycafe app on your iOS or Android mobile device.
More Questions?
Visit our Frequently Asked Questions or contact our support staff for more insights about how to register for Keycafe today.